---
Arnhem's historical landmark "De Melkfabriek" closing: Free Your Mind Weekender 2019!
It'll be the last time...
Free Your Mind is starting off 2019 with a very promising event. This will be the last time this location get's to be used for a dance event. Get sweaty and lost in the halls, corridors and heavy machinery. Some of today's house and techno heavyweights will be playing this weekend in this unique location.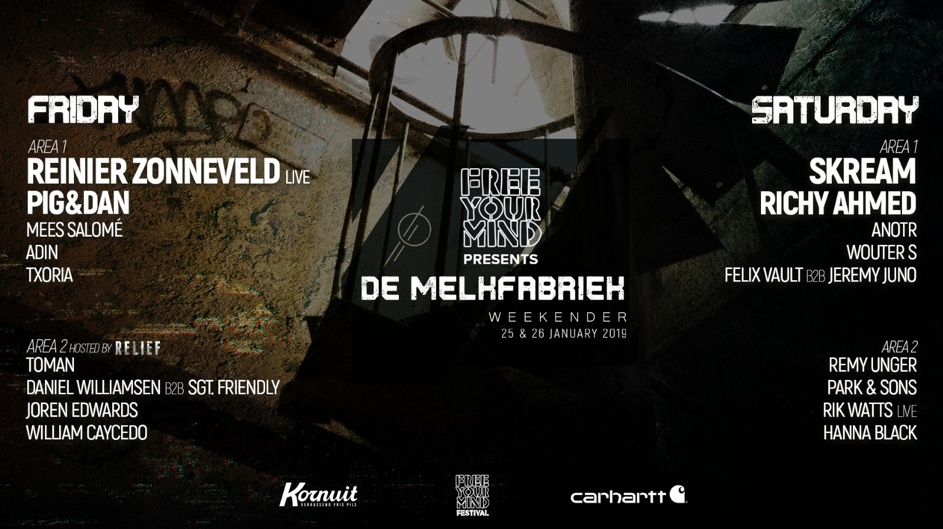 This fabric has a rich history as it's build year goes back to 1921. The building still has it's battle scars from the second world war, where Arnhem was hit for a big a part. Continuing the timeline it has served as a milk factory for years before it got shut down. In a few week the location be filled with ravers and artists like Skream, Pig & Dan, Reinier Zonneveld, Richy Ahmed amongst others and a balanced selection of locals. 
When? January 25-26, 2019
Where? Arnhem / Netherlands
Find more information here! (Facebook)
Buy tickets here!
FREE YOUR MIND 2018 Official Aftermovie
The only thing we can say is that you should see this for yourself! This is the last time you get to get an inside look on such an amazing location. It's great to see that Free Your Mind is taking the lead in organising such big events for the dance scene in Arnhem. We can't wait to hear what come's next..
Find more informaition, tickets and accomodation opportunities on our event page. 
lineup
Reinier Zonneveld (live) - Pig & Dan - Skream - Richy Ahmed - Mees Salomé - Adin - Txoria - Anotr - Wouter S - Felix Vault b2b Jeremy Juno - Toman - Daniel Williamsen b2b Sgt. Friendly - Joren Edwards - William Caycedo - Remy Unger - Park & Sons - Rik Watts (live) - Hanna Black
---