---
CAFÉ MAMBO 2019 brings IBIZA CLASSICS to BEDFORD PARK!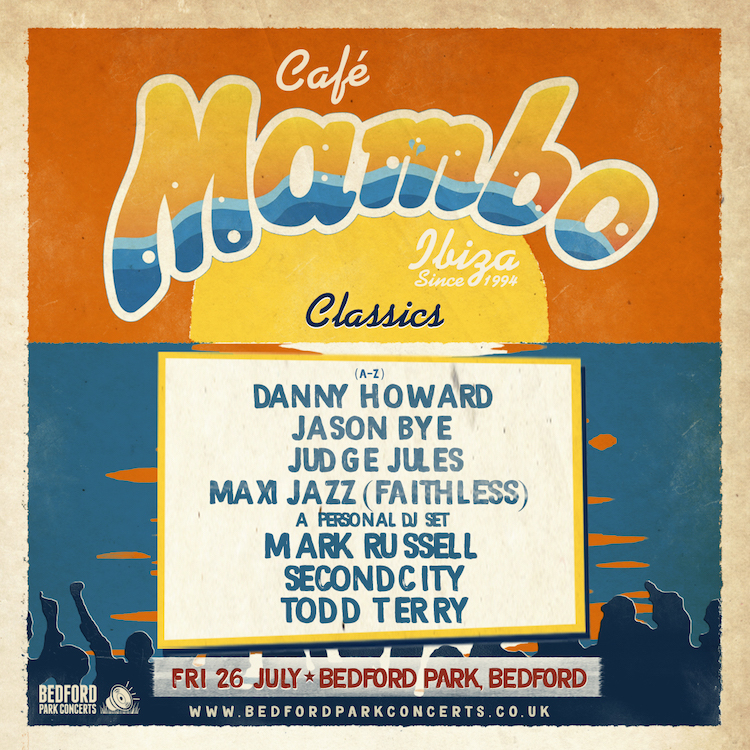 café mambo meets bedford park 
When? July 26, 2019 / 4pm-11pm
Where? Bedford Park, Bedford / United Kingdom
Get more info & tickets here!
Café Mambo Ibiza announced a "star-studded" lineup with "some of the best house music talent to grace the Mambo turntables over the last 25 years" including Danny Howard, Judge Jules, Jason Bye, MAXI JAZZ, Secondcity, Todd Terry, and MARK RUSSEL. 
The organizers about Café Mambo... "For those in the know, Café Mambo is the place where good times and good tunes are guaranteed, playing host to all the big names in dance music, not to mention the infamous BBC Radio 1 Ibiza weekends. Over recent years, Mambo has also left the island to forge new friendships with revellers across the globe, throwing unforgettable parties and bringing an authentic slice of Ibiza to such places as Los Angeles, Miami, New York, Dubai, Phuket, Beirut and Bahrain, as well as huge festival appearances at the likes of Tomorrowland and We Are FSTVL. 'Ibiza Classics' in Bedford Park will be the biggest one yet."
... and the announced acts...
Danny Howard: "With his Friday night, 11pm – 1am slot on BBC Radio 1,  Danny Howard is one of dance music's most influential tastemakers. Using his radio show to champion the freshest electronic music, Danny remains a huge figure on the scene. His label, Nothing Else Matters continues to showcase outstanding DJs and producers. Bedford Park crowds should get ready to throw hands in the air."
Judge Jules: "Judge Jules has played a pivotal role in dance music since the 90's. Together with Pete Tong, his was the voice of BBC Radio 1 Friday nights that steered the weekend clubbing adventures for a nation. With an encyclopedic knowledge of dance music, Judge Jules is the perfect choice for a night of 'Ibiza Classics'."
Jason Bye: "Jason Bye is synonymous with the quality music of Café Mambo. The venerated Ibiza resident first played for Mambo in 1995 and has been entertaining the Ibiza clubbing masses with his impressive mixing and impeccable tune selection ever since."
Maxi Jazz: "Maxi Jazz is instantly recognisable as the voice of Faithless and his links to Ibiza run deep. Faithless became one of the biggest electronic music bands ever and Café Mambo crowds are sure to hear their bonafide Ibiza classics such as 'Insomnia', 'We Come 1' and 'God Is A DJ'. However, this will be a personal DJ set from Maxi Jazz, stepping up to the decks without his Faithless bandmates. He will be digging deep into his extensive record collection to find some real gems."
Secondcity: "Also lining up is Secondcity, the undeniably talented house and techno producer born in the UK and raised in Chicago. Since his breakout hit "I Wanna Feel" in 2014, Secondcity has been in constant demand around the world, playing at the most credible clubs and festivals while releasing on such eminent labels as Sola, Elrow Music, Toolroom, Knee Deep In Sound and and more. He made his Café Mambo debut last year and will bring the current vibes to 'Ibiza Classics'. "
Todd Terry: "Todd Terry will take to the turntables with his record box of Ibiza classics. One of house music's true originals, this Grammy-nominated artist from Brooklyn, New York helped to define house music with his seminal productions such as 'Keep On Jumpin' and his remix of Everything But The Girl's 'Missing'. His set will be a rare treat for the crowds in the park."
According to the organizers, VIP tickets include:
Concert ticket to Cafe Mambo Ibiza Classics
'Fast Track' entry into Bedford Park
Access into 'The Park Lounge' hospitality marquee and garden
A glass of chilled Prosecco on arrival (soft drinks for children)
Luxury Summer Barbecue and gourmet salad bar
Prime viewing position
Furniture inside, and outside
Access to The Park Lounge bar
Souvenir VIP event lanyard
Luxury toilet facilities
Tickets can be bought HERE and start at £30 + b/f, VIP tickets start from £110 + b/f. 
Find more information on the official website and follow us on FACEBOOK and INSTAGRAM for both latest lineup updates and festival impressions right in your hands.
lineup
Danny Howard - Jason Bye - Judge Jules - Maxi Jazz (Faithless) - Mark Russel - Secondcity - Todd Terry
---