---
FESTIVAL FORTE 2019 confirms 2nd LINEUP ROUND!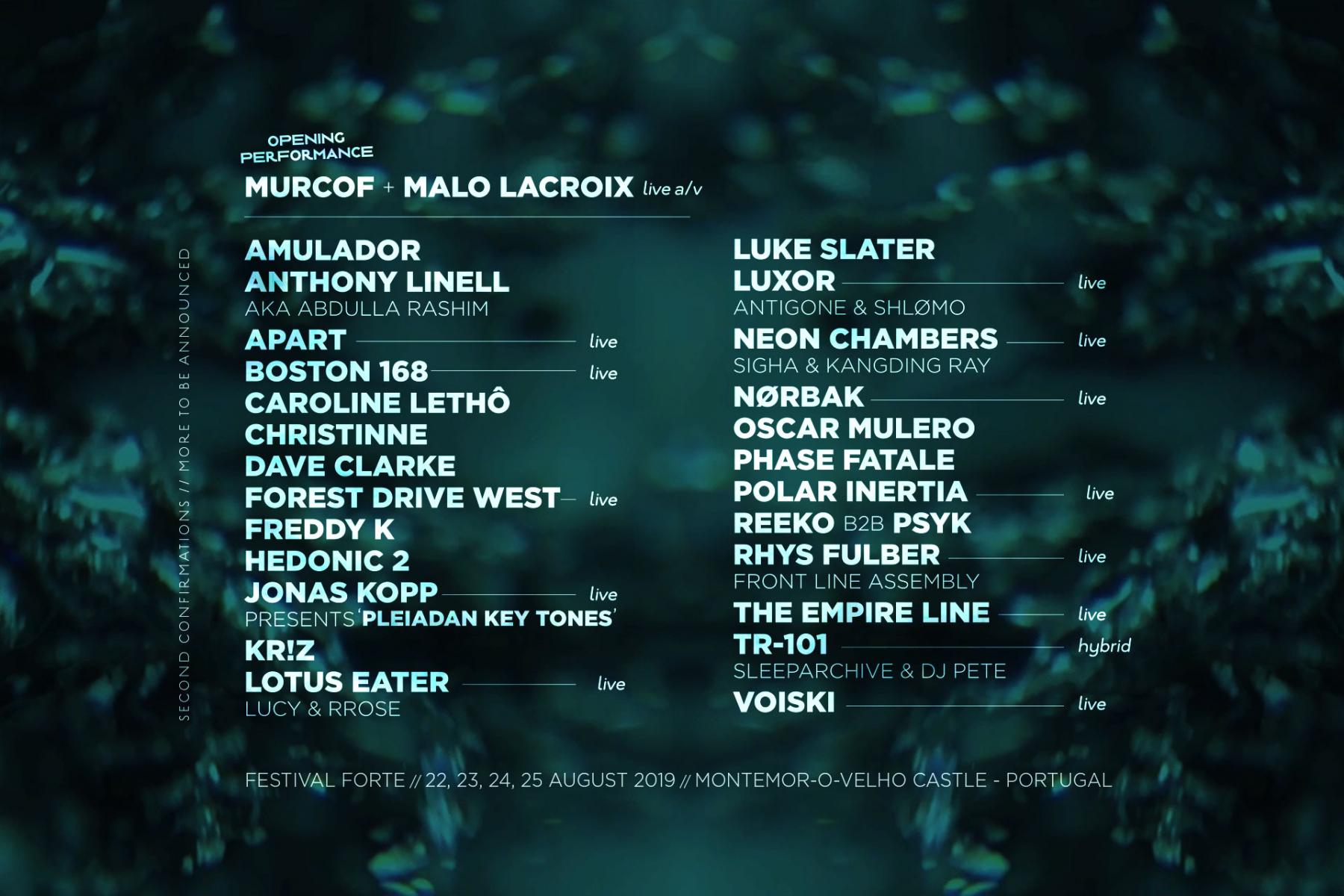 Photo Credit to Festival Forte
More acts to perform inside the walls of the castle Montemor-o-Velho 
When? August 22-25, 2019
Where? Montemor-o-Velho / Portugal
Get more info here!
Buy tickets here! (Ref-Link*)
Festival Forte just announced its second lineup phase including Jonas Kopp with a new live show "that will be a complete immersive experience" between ambient and techno, the "first ever" b2b performance from Reeko & Psyk, the "dream team" Lucy & Rrose, and the "exciting new project" Luxor from Lotus Eater, Antigone, and SHLØMO. Within Phase 2 they join Voiski, Luke Slater, and local talents such as Amulador, APART, CAROLINE LETHÔ, Hedonic 2, and NØRBAK.  You can find the full yet released lineup below. More acts are tba. The organizers also add that they will present THE EMPIRE LINE which is "one of the most explosive industrial techno live sets that can be experienced today". 
Festival Forte Teases 2019
Find more information on the official website and visit our event page for tickets + accommodation opportunities. Follow us on FACEBOOK and INSTAGRAM for both latest lineup updates and festival impressions right in your hands.
lineup
Murcof w/ Malo Lacroix - Amulador - Anthony Linell aka Abdulla Rashim - Apart - Boston 168 - Caroline Lethô - Chrstinne - Dave Clarke - Forest Drive West - Freddy K - Hedonic - Jonas Kopp presents Pleiadan Key Tones - Kr!z - Lotus Eater - Luke Slater - Luxor - Neon Chambers - Nørbak - Oscar Mulero - Phase Fatale - Polar Inertia - Reeko b2b Psyk - Rhys Fulber - The Empire Line - TR-101 - Voiski - more tba
*This is an affiliate link, meaning, at no additional cost to you, we will earn a commission if you click through and make a purchase.
---