---
LEGENDS IN THE PARK 2019 reveals DEBUT SUMMER EVENT!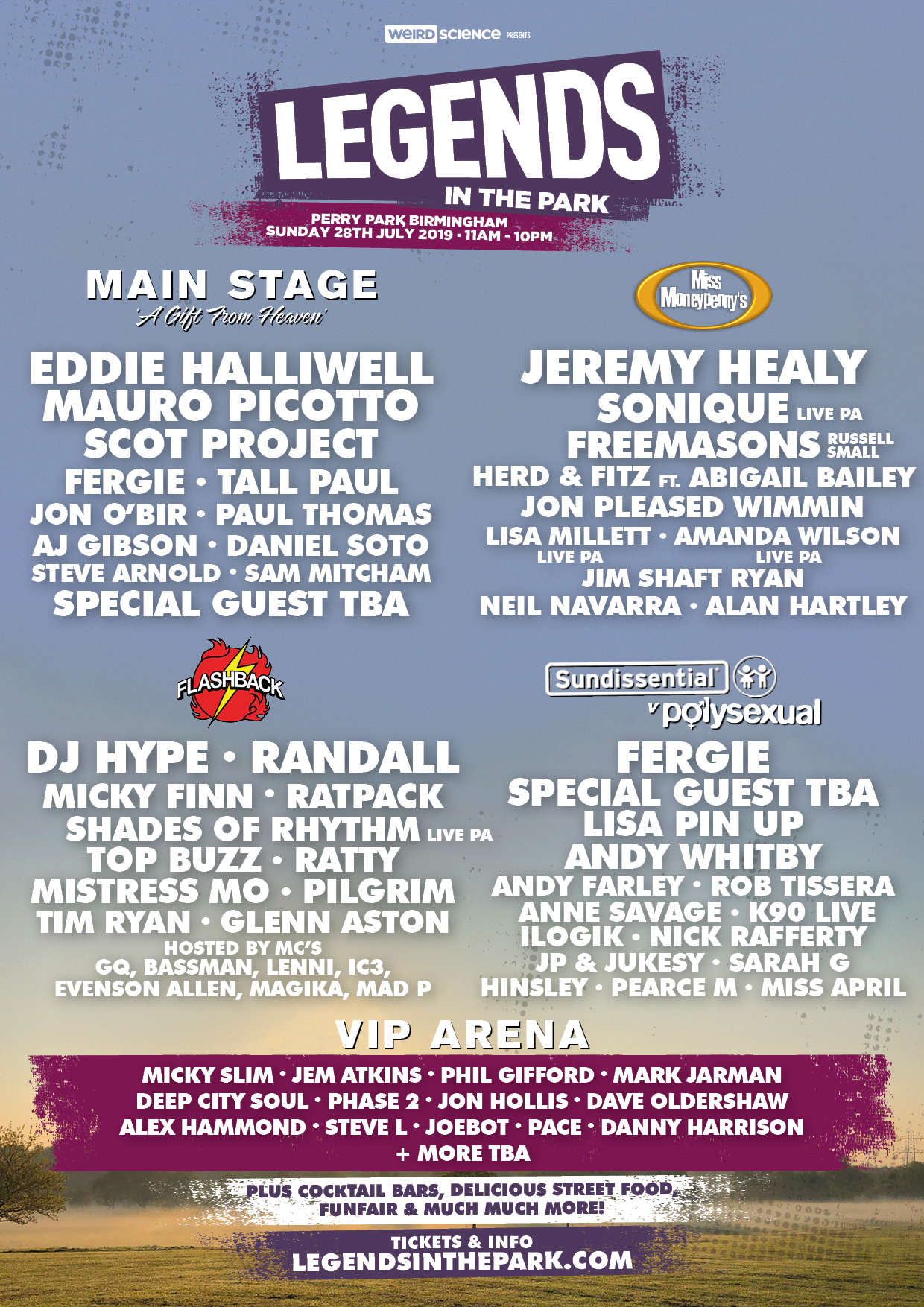 Image Credit to Legends In The Park
a "huge celebration"
When? July 28, 2019 / 11am to 10pm
Where? Perry Park, Birmingham / United Kingdom
Get more info & tickets here!
This very new, all-day event taking place in Birmingham's Perry Park announced the first round of names! Visitors can expect Trance from Eddie Halliwell and Scot Project as well as  the Techno DJ Mauro Picotto on the main stage. The arena hosted by FLASHBACK ("the Birmingham old school hardcore, jungle, and drum and bass favourite"), will have DJ Hype, Randall, Micky Finn, Ratpack and more. 
MISS MONEYPENNY - "another bonafide legend of Birmingham's club scene" - will bring Jeremy Healy, SONIQUE (live PA), FREEMASONS, HERD & FITZ featuring ABIGAIL BAILEY and "many more". Further names are the "hard house originators" SUNDISSENTIAL x POLYSEXUAL with Fergie, Lisa Pin-Up, Andy Whitby, Andy Farley to name a few.
Find more information and tickets starting at £35 (+b/f) and £55 (+b/f, VIP) on the official website.  
lineup
MAIN STAGE: Eddie Halliwell - Mauro Picotto - Fergie - Scot Project - Tall Paul - Jon O'Bir - Paul Thomas - AJ Gibson - Daniel Soto - Steve Arnold - Sam Mitcham special guest tba
FLASHBACK: DJ Hype - Randall - Micky Finn - Ratpack - Shades of Rhythm (live PA) - Top Buzz - Ratty - Mistress Mo - Pilgrim - Tim Ryan - Glenn Aston - Hosted by MC's: GQ - Bassman - Lenni - IC3 - Evenson Allen - Magika - Mad P
MISS MONEYPENNY'S: Jeremy Healy - Sonique (Live PA) - Herd & Fitz feat. Abigail Bailey - Jon Pleased Wimmin - Lisa Millett (live PA) - Amanda Wilson (live PA) - Jim 'Shaft' Ryan - Neil Navarra - Alan Hartley - 
SUNDISSENTIAL v POLYSEXUAL: Fergie - Lisa Pin-Up - Andy Whitby - Andy Farley - Rob Tissera - Anne Savage - K90 (live) - Illogik - Nick Rafferty - JP & Jukesy - Sarah G - Hinsley - Pearce M - Miss April - very special guest tba
---