---
LINEUP-NEWS: BOOMTOWN 2019 reveals psychedelic LINEUP!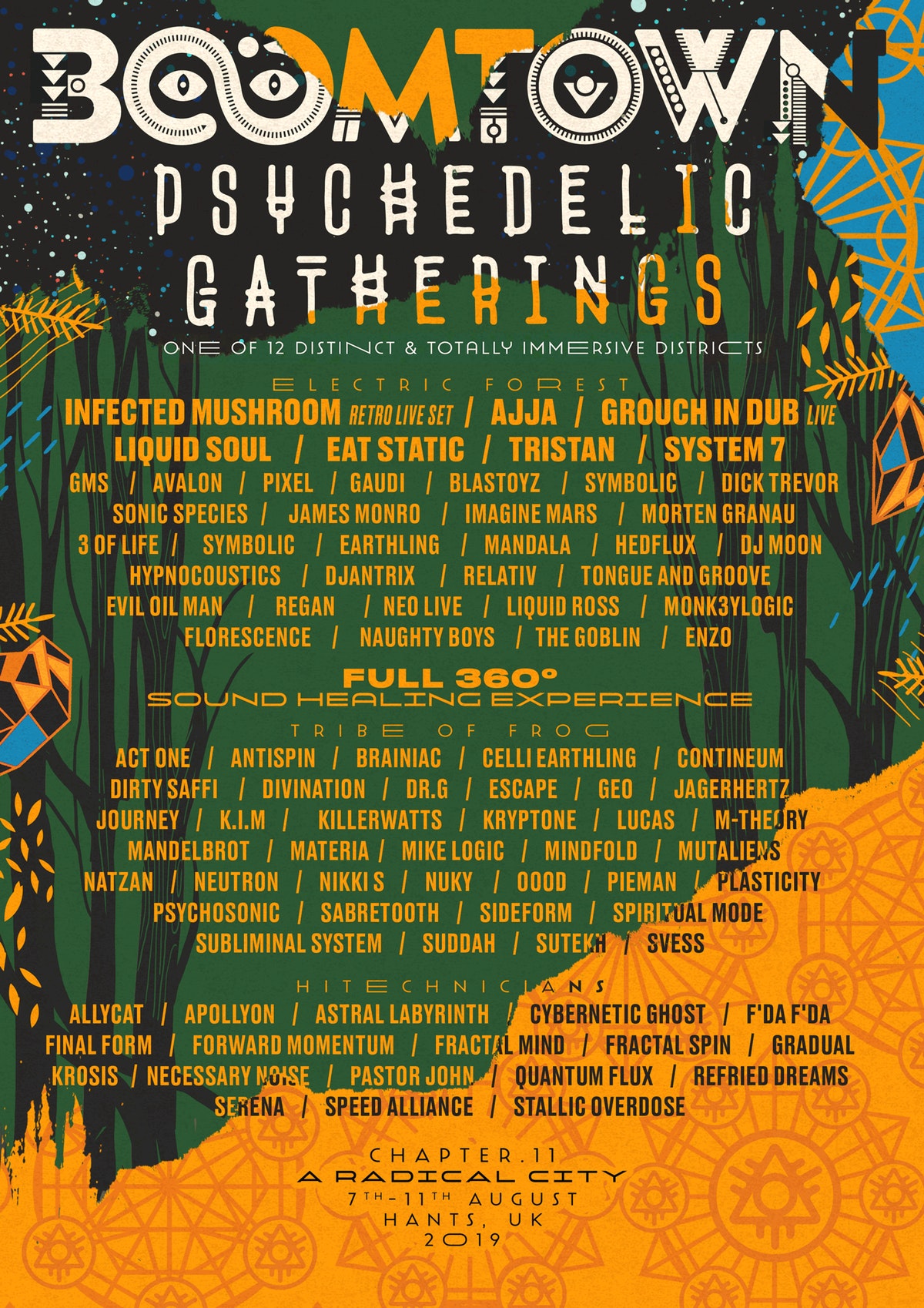 Chapter 11 will have 3 psychedelic areas  
When? August 7-11, 2019
Where? Winchester / United Kingdom

Get more info & tickets here!
Following up Boomtown's reggae announcement, the latest press release just revealed the festival's topping lineup for its psytrance offerings. The organizers promise "to bring the ever growing hi-tech, psy-dub and psy-core communities together" while inviting both "international artists" and "grassroots fresh talents". The whole thing will take place across three dedicated psychedelic areas. 
The first of Boomtown's 8 new stages, Electric Forest, is inspired by a "spiritual pyramid design" and is considered "the very heart of the sacred grounds of the sun dappled dance floors".  The lineup includes Infected Mushroom, GROUCH LIVE BAND, AJJA as well as Liquid Soul who will bring you his unmistakable mix of trance and psychedelic trance.  
Tribe of Frog will provide the likes of Killerwatts, DJ Celli (with its solo project Earthling), Lucas, Materia, and Antispin.
And last but not least, Hitechnicians will be all about the "intense psychedelia" from "the deepest underground sounds" with acts including ALLYCAT, CYBERNETIC GHOST, FORWARD MOMENTUM, SPEED ALLIANCE, and STALLIC OVERDOSE. 
Find more information on the official website and visit our event page for accommodation opportunities. Follow us on FACEBOOK and INSTAGRAM for both latest lineup updates and festival impressions right in your hands.
Image Credits to Boomtown Fair
lineup
ELECTRIC FOREST: Infected Mushroom Retro Live Set - Ajja - Grouch in Dub Live - Liquid Soul - Eat Static - Tristan - System 7 -  GMS - Avalon - Pixel - GAUDI - Blastoyz - Symbolic - Dick Trevor - Sonic Species - James Monro - Imagine Mars - Morten Granau - Hypnocoustics - Symbolic - Earthling - Mandala - Hedflux - DJ Moon - 3 of Life - Djantrix - Relativ - Tongue and Groove - Evil Oil Man - Regan -  NEO Live - Liquid Ross - Monk3ylogic - Florescence - Naughty Boys - The Goblin - Enzo
TRIBE OF FROG: Act One - Antispin - Brainiac - Celli Earthling - Contineum - Dirty Saffi - Divination - Dr.G - Escape - Geo - Jagerhertz - Journey - K.I.M - Killerwatts - Kryptone - Lucas - M-theory - Mandelbrot - Materia - Mike Logic - Mindfold - Mutaliens - Natzan - Neutron - Nikki S - Nuky - Oood - Pieman - Plasticity - Psychosonic - Sabretooth - Sideform - Spiritual Mode Subliminal System - Suddah  Sutekh - Svess
HITECHNICIANS: Allycat - Apollyon - Astral Labyrinth - Cybernetic Ghost - F'da F'da - Final Form - Forward Momentum - Fractal Mind - Fractal Spin - Gradual - Krosis - Necessary Noise - Pastor John - Quantum Flux - Refried Dreams - Serena - Speed Alliance - Stallic Overdose 
---