---
LINEUP-NEWS: BOOMTOWN 2019 uncovers FULL LINEUP for METROPOLIS district!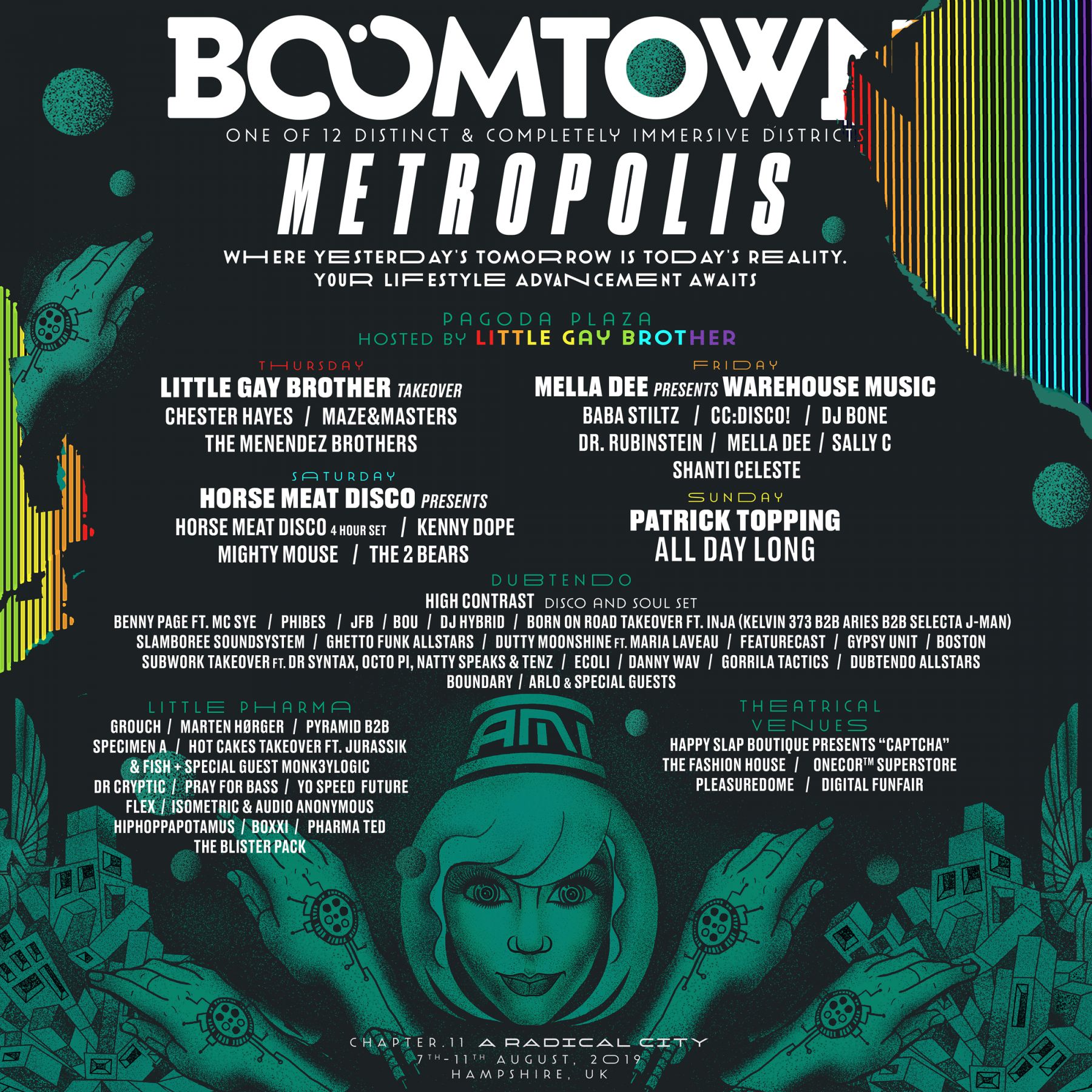 Image Credit to Boomtown Fair 
house & techno from thursday to sunday
When? August 7-11, 2019
Where? Winchester / United Kingdom
Get more info & tickets here!
Boomtown has revealed the full lineup for its "immersive, futuristic themed district" Metropolis. 
The Metropolis district main stage Pagoda Plaza is hosted by LGTBQ+ party collective LITTLE GAY BROTHERS. They will also take control on Thursday, supported by CHESTER HAYES, Maze&Masters, and The Menendez Brothers. On Friday, Mella Dee and his label WAREHOUSE_MUSIC are in control bringing you Baba Stiltz, CC:DISCO!, DJ BONE, DR. RUBINSTEIN, SALLY C, and SHANTI CELESTE. On Saturday Horse Meat Disco is in charge with the help of MIGHTY MOUSE, Kenny Dope, and The 2 Bears. Finally on sunday, Patrick Topping makes his debut with the festival exclusive "Patrick Topping All Day Long". 
The event has a capacity of 66,000 visitors and showcases over 80 musical genres.
tickets
Tickets can be bought here.  
Standard Festival Entry

 

Tier 3 - £234

Public Transport Saver

 

Tier 3 - £229

Teen Tickets

 

£176.00
12s and under

 

FREE
Find more information on the OFFICIAL WEBSITE and visit our EVENT PAGE for accommodation opportunities. Follow us on FACEBOOK and INSTAGRAM for both latest lineup updates and festival impressions right in your hands.
lineup
Little Gay Brother Takeover - Chester Hayes - Maze&Masters - The Menendez Brothers - Baba Stiltz - CC:Disco! - DJ Bone - Dr. Rubinstein - Mella Dee - Sally C - Shanti Celeste - Horse Meat Disco 4 hour set / Kenny Dope / Mighty Mouse / The 2 Bears - Patrick Topping 
---