---
MEO SUDOESTE 2019's official timetable!
When? August 6-10, 2019
Where? Zambujeira do Mar, Alentejo Southwest Coast / Portugal
Get more info here!
Buy tickets here! (Ref-Link*)
don't miss the official schedule for meo sudoeste 2019!
One of the greatest summer festivals will welcome everyone on August 3rd with the opening of the camping site. Until August 6, we'll be partying at the Super Bock Stage and preparing for artists such as Post Malone, ANITTA, Steve Aoki, RITA ORA and Timmy Trumpet; and a portuguese line-up filled with strong names like BLAYA, WET BED GANG, Kura, CAROLINA DESLANDES and JIMMY P, among many others who will perform on MEO Sudoeste's various stages.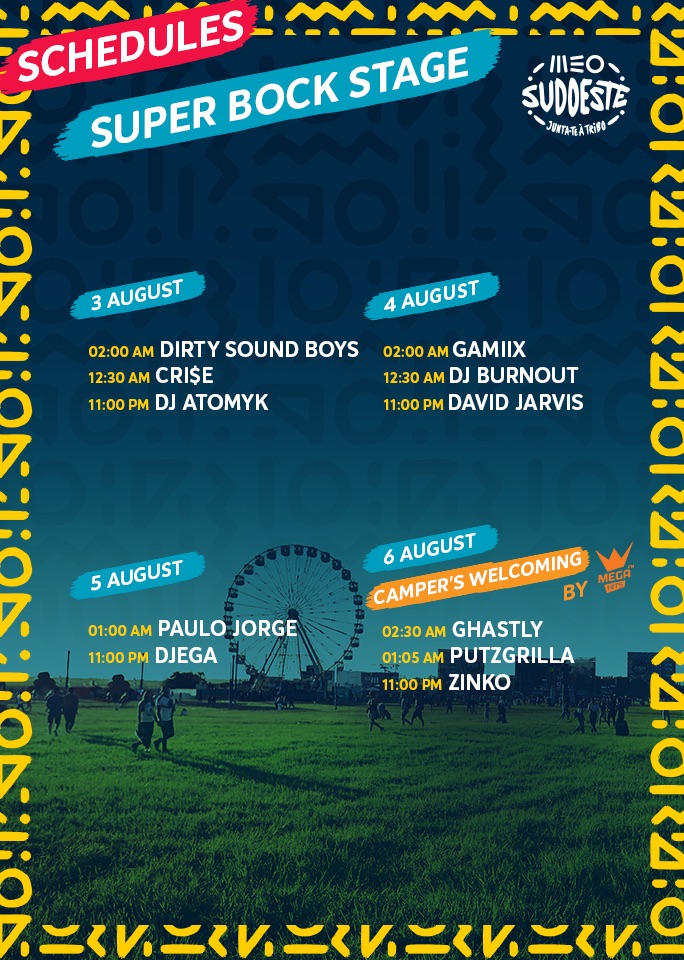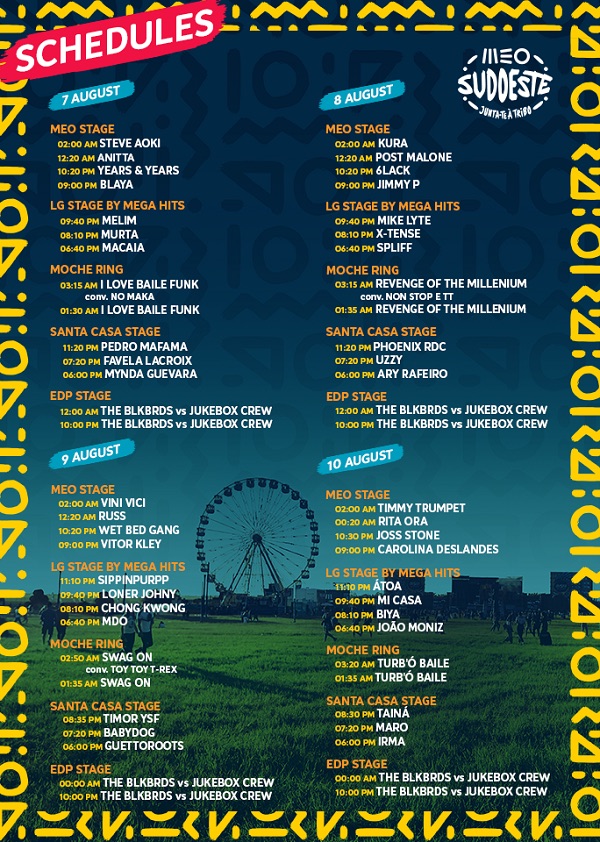 Find more information on the official website and visit our event page for tickets + accommodation opportunities. Follow us on FACEBOOK and INSTAGRAM for both latest lineup updates and festival impressions right in your hands.
lineup
DJ Atomyk - Cri$e - Dirty Soundboys - David Jarvis - DJ Burnout - Gamiix - Paulo Jorge - DJEGA - Ghastly - Putzgrilla - Zinko - Anitta - Steve Aoki - Years and Years - Blaya - Melim - Murta - Macaia - The BLKBRDS vs Jukebox Crew - Blaya Presents: Pedro Mafama - Mynda Guevara - Favela Lacroix - Post Malone - Kura - 6lack, Jimmy P - Mike Lyte - X-Tense - Spliff - The BLKBRDS vs Jukebox Crew - Jimmy P Presents: Phoenix RDC - Uzzy - Ary Rafeiro - Russ - Vini Vici - Wet Bed Gang - Vitor Kley - SippinPurpp - Lon3r Johny - Chong Kwong - MDO - The BLKBRDS vs Jukebox Crew - Piruka Presents: Timor YSF - Babydog - GuettoRoots - Timmy Trumpet - Rita Ora - Joss Stone - Carolina Deslandes - Átoa - Mi Casa - Biya - João Moniz - The BLKBRDS vs Jukebox Crew - Carolina Deslandes Presents: Tainá, MARO, IRMA
---