---
Q-DANCE unveils LINEUP of IMPAQT 2019!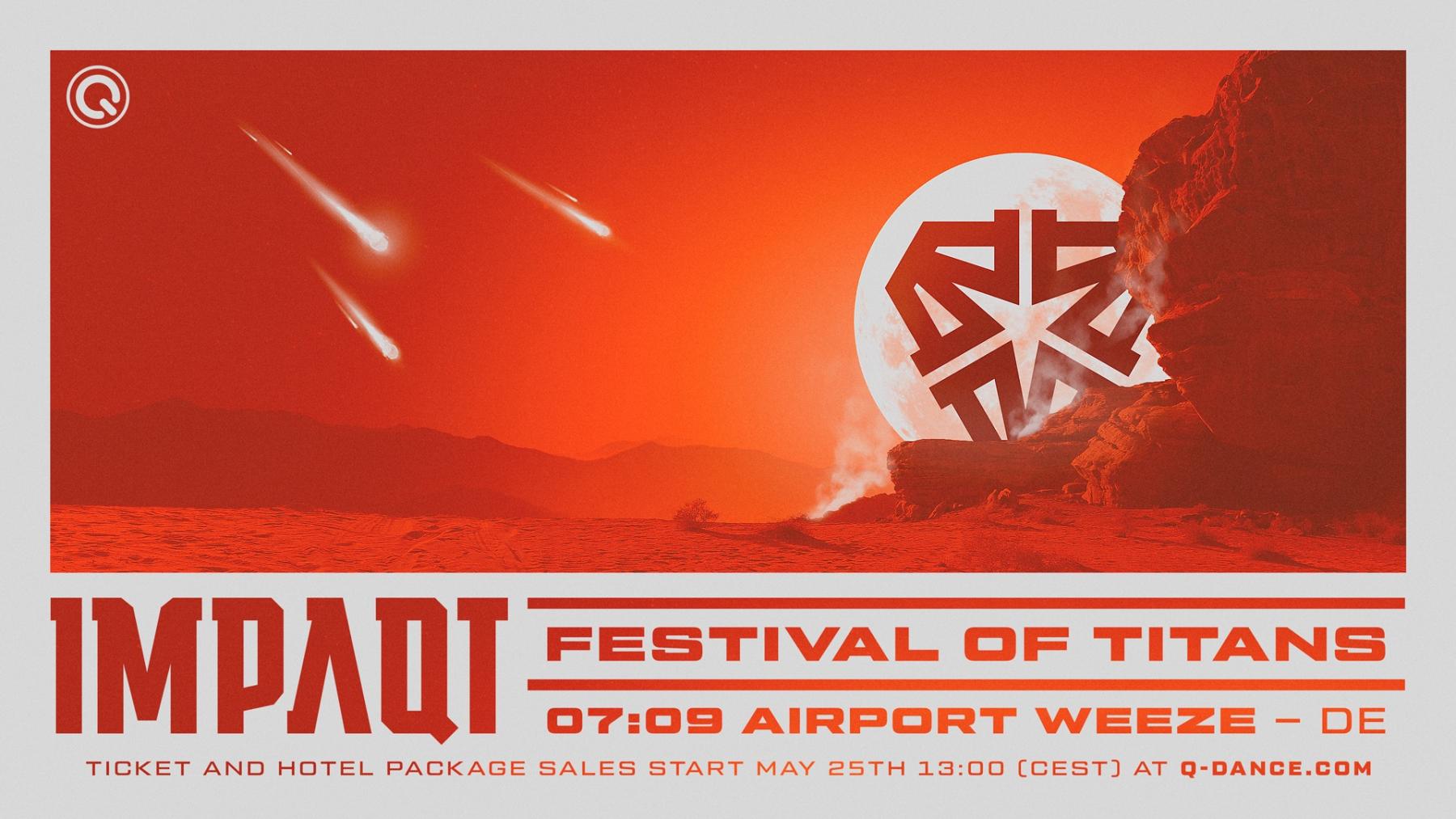 The "long-awaited successor" of the Q-BASE Festival reveals its acts

When? September 7, 2019 / 14:00 hours to 02:00 hours
Where? Airport Weeze, Weeze / Germany
Get more info here
Read here the official statement!
#####################################
Q-dance, founder of hardstyle sounds and distinguished organiser of the most popular hardstyle events worldwide, today announced the lineup of their brand new festival IMPAQT – Festival of Titans. IMPAQT is the long-awaited successor of the Q-BASE Festival that was discontinued after fifteen successful years. IMPAQT will take place on 7 September 2019 from 14:00 hours until 02:00 hours at Airport Weeze in Germany. 
The lineup consists of nearly 100 DJ's spread over several areas with headliners D-Block & S-te-Fan, Sefa & Rooler, Warface, Angerfist, Wildstylez, Ran-D, Rejecta, Charly Lownoise & Mental Theo, Gunz for Hire and Rebelion. The festival also has a special premiere, as it's the first time that the new collaboration between 'Atmozfears & Sound Rush present: 2/\\1' will step on-stage. There are also several back2back sets.
IMPAQT 2019 | Lineup
Three types of tickets 
There are three different types of tickets available for IMPAQT:
Early Bird (55 euro)
Regular (65 euro)
Titan (75 euro)
With a Titan ticket, the visitor gets access to the special 'The Titan Showcase'. Early Bird and Titan tickets go on sale on Saturday 25 May on the official Q-dance website and are both available while supplies last. Regular tickets go on sale as soon as the Early Bird tickets are sold out. 
#####################################
Find more information on the official website. Follow us on FACEBOOK and INSTAGRAM for both latest lineup updates and festival impressions right in your hands.
lineup
TERRITORY #1 | Titans Of The Harder Styles | The Colossus Hosted by Villain
Atmozfears & Sound Rush present: 2//\\1 - D-Block & S-te-Fan - KELTEK - Miss K8 - Noisecontrollers & Devin Wild - Phuture Noize - Primeshock - Ran-D - Rebelion - Sefa & Rooler - Warface - Wildstylez - Zatox
TERRITORY #2 | Titans Of Raw | The Octogon Hosted by Livid
Act of Rage - Adaro - B-Front & MYST - D-Attack - D-Sturb - Deetox & Bass Chaserz - Delete VIP - End of Line showcase - Hard Driver [LIVE] - Killshot - Rejecta presents The Rise of Rejecta - Requiem presents Reckoning
TERRITORY #3 | Titans Of Hardcore | The Invader Hosted by Alee
Angerfist - D-Fence - Deadly Guns - Destructive Tendencies - Dither - Dr. Peacock - I:GOR - Mad Dog - N-Vitral - Rude - Awakening - Tha Playah - Wasted Mind
TERRITORY #1 | Titans Of The Harder Styles | The Dome Hosted by DV8
Charly Lownoise & Mental Theo 25 Years - V - Da Tweekaz - Deepack - Frequencerz presents Get Wack! - Gunz for Hire presents Blood Brothers - Korsakoff "Millennium set" - LNY TNZ - Psyko Punkz presents Psyko Mansion - Ransom - Sub Zero Project [LIVE] - ZazaFront
TERRITORY #2 | Titans Of Raw | The Nest Hosted by MC Focus
Bloodlust - Chris One - Jason Payne & Apexx - Malice - Mind Dimension - Ncrypta - Neroz - Riot Shift - Unresolved - Vertile
TERRITORY #3 | Titans Of Hardcore | The Armoury Hosted by MC RG
Basspunkz - Blaster - Crypton & Mr. Ivex - Deathroar - DRS [LIVE] - Gabba Front Berlin - Hatred - Lady Dammage - Omkara - Para Italia - Spitnoise & Vandal!sm & Chaotic Hostility - Streiks & Kratchs - The Satan [LIVE] - Unproven 
---