---
SPECIAL: The last festival bag you need?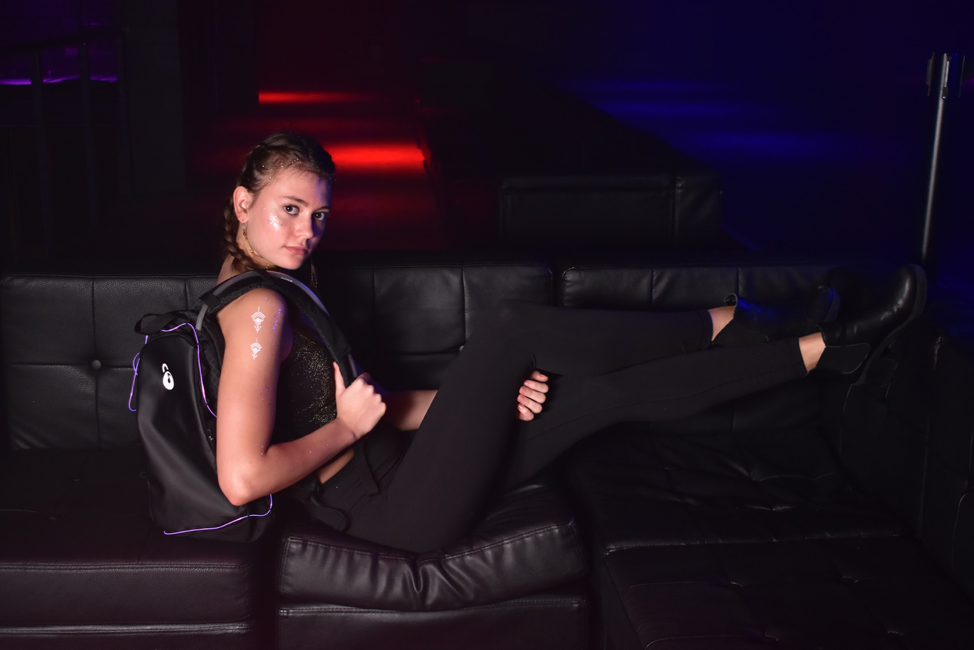 Credits to LUNCHBOX
A dreamlike festival day can quickly become a nightmare. The moment your most important valuables are stolen or you're stuck in the middle of a crowd without any water, the day, if not the whole festival trip, is ruined.
A YOUNG TEAM OF FESTIVAL LOVERS MAY HAVE THE SOLUTION FOR YOU
These problems may have been solved by a dedicated team around the young American entrepreneur Tom Worcester. Their product - called Lunchbox - is designed to be both functional but also stylish. So, is Lunchbox the perfect choice for all festival-goers? Let's take a closer look at these promises.
ANTI-THEFT DESIGN
The creators behind Lunchbox promise significantly improved anti-theft protection through the use of cut resistant materials. They constructed the bag with ballistic nylon which is durable enough to withstand being sliced by a sharp knife or razor. In addition, the backpack has been cleverly designed to prevent plundering without your notice, e.g. by inverted zipper placements.
Watch the Kickstarter Campaign Video!
A BUILT-IN HYDRATION SYSTEM
The end of long water lines? The Lunchbox has an insulated internal tank that can store nearly two liters of water. It is said to be easy to fill and clean and - thanks to a twist-off bar - leak-proof when not in use. Plus, it is 100% BPA and PVC free according to its producers. While on the topic of water, the entire backpack is supposed to be water-resistant.
CONVERTIBLE & CUSTOMIZABLE
Interchangeable skins let you completely customize your backpack. The team promises that any pattern of your choice is possible. Integrated loops allow even more individualization: By attaching electrical lightshow wires the backpack transforms into your own personal Lunchbox light show.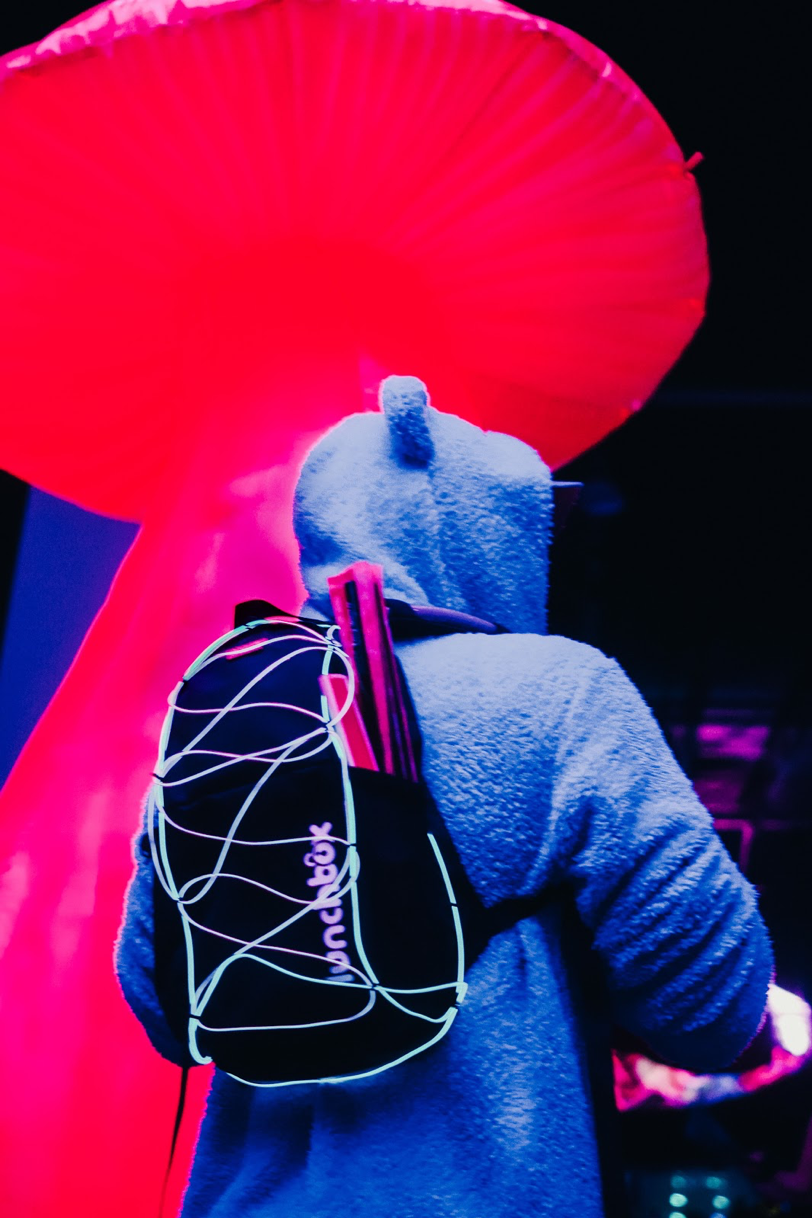 Credits to LUNCHBOX
DIRECT AND FAST ACCESS TO EVERYTHING IMPORTANT
You can keep your phone in front of you at all times due to a phone pouch - a cable wire path shall always guarantee a direct access to your portable battery inside the bag (extra pocket). On top of that, you'll find a hidden strap pocket (e.g. for BT-tracker), accessible sidewalk pockets and a sunglasses pocket.
The backpack should have a capacity of 12 liter, 16'' (40,64cm) high and 10'' (25,4cm) wide at a depth of 5'' (12,7cm). Inside there are two compartments.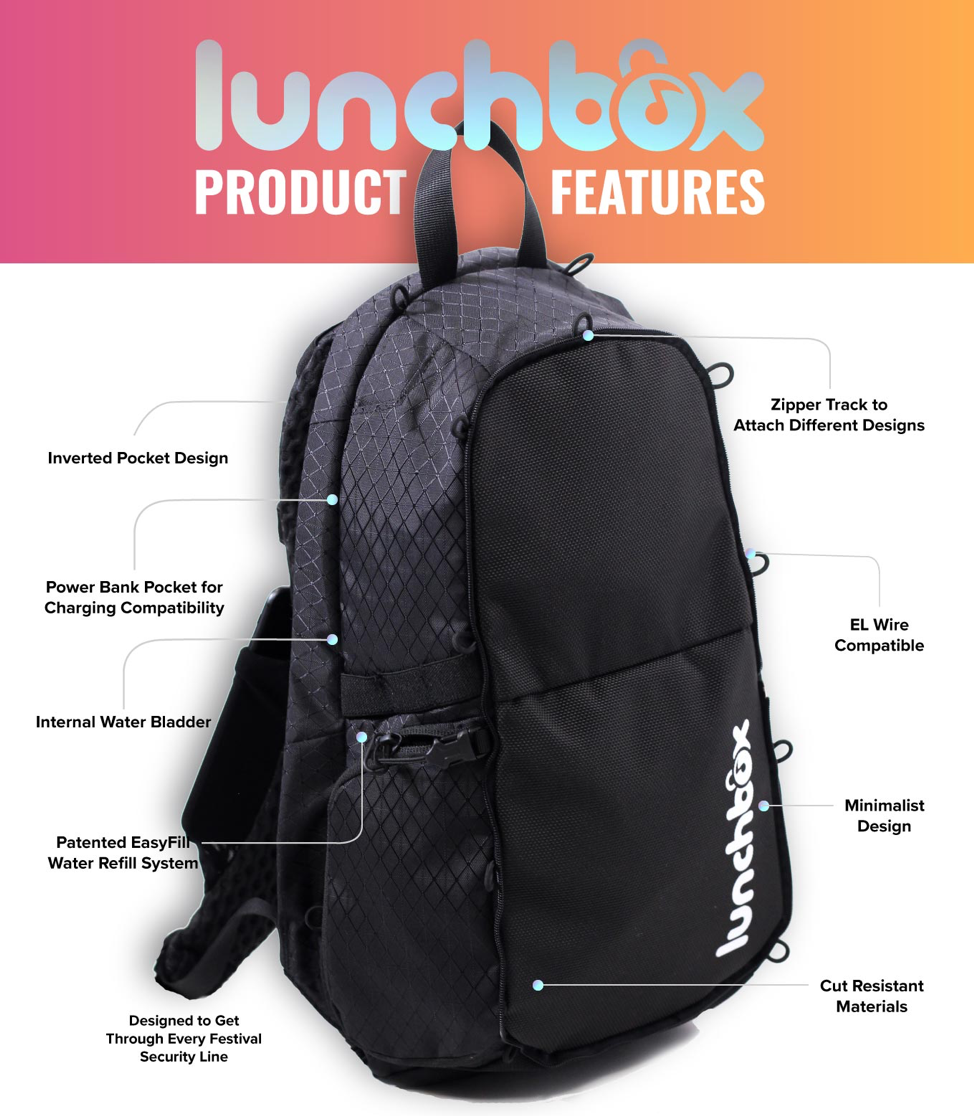 Credits to Lunchbox
WHAT DOES IT COST?
Various packages are available on Kickstarter starting from 79 US$ (+ shipping fees). This starter pack contains the Lunchbox hydration pack, a JuiceBox hydration bladder, a lightshow wire, a Lunchbox logo standard skin and a custom design Lunchbox skin. The expected delivery is June 2019. The backpack will be shipped worldwide. Get more information here.
WHAT DO WE THINK OF LUNCHBOX?
We can only give a final verdict once we have it in our hands. But we believe the idea is definitely great and from what we know so far, we think the implementation is more than promising and could be a real asset on a festival trip.
FINANCING NOT YET 100% SECURED!
But make up your own mind and have a look at the Kickstarter campaign. There you will find much more information, including the different packages available. Have a look at the FAQ if you have any more questions. And if the bag appeals to you, support the guys from Lunchbox - because the financing - if almost as good as - is not yet 100 percent secured (as of January 7, 2019). Please keep in mind that an order via Kickstarter is always subject to a certain risk.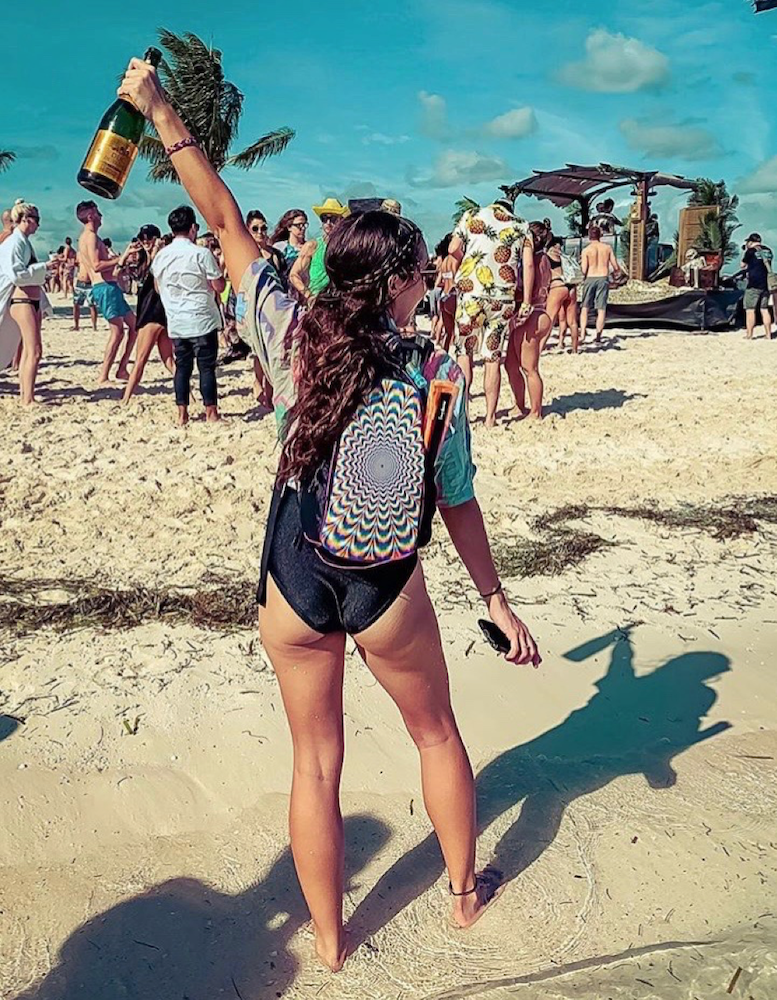 Credits to LUNCHBOX
---