---
TOXICATOR 2018: Get the official TimeTable!
Find the official timetable at the bottom of this blog entry.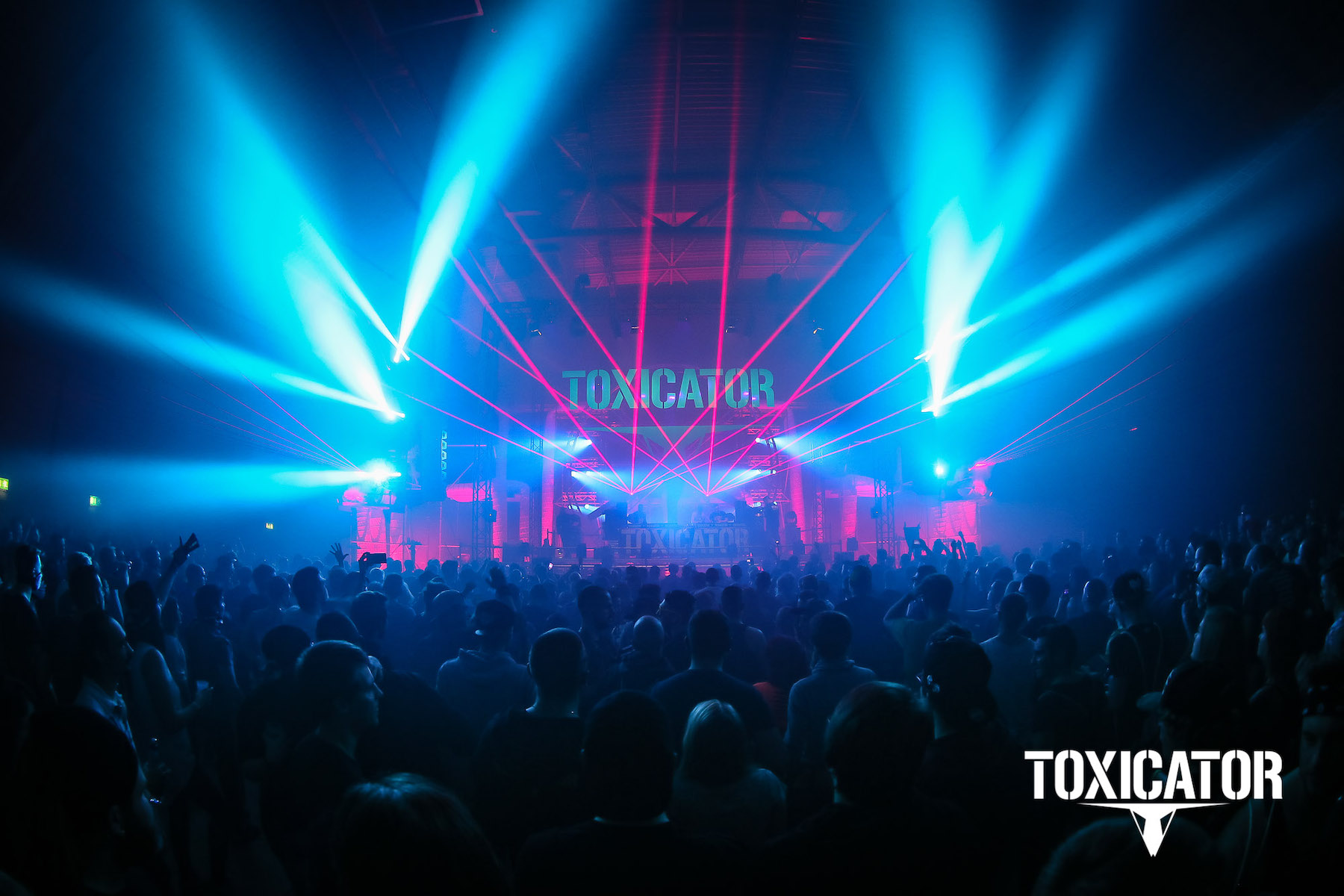 strictly: hardcore, hardstyle and hardtechno
The lineup is diverse and promising: More than 30 top DJs and live acts are on the stages of the three floors. Among them are Art of Fighters, Frontliner, Partyraiser, Ran-D, Scarphase and  Wildstylez. Since 2009 the rule in Mannheim has been: "Strictly: Hardcore, Hardstyle and Hardtechno." Starting with 3.600 visitors TOXICATOR is today one of the biggest German festivals for the "Harder Styles" with more than 11.000 visitors annually. Sister events such as SYNDICATE in Dortmund with up to 20,000 visitors also show that the harder styles of electronic music are no longer just a niche. "Until the mid-2000s, the Harder Styles were still quite unknown and unpopular - but today they are all the more popular. This is especially shown by stars such as " Frontliner" and " Wildstylez", who have many hundreds of thousands of followers worldwide", says Oliver Vordemvenne from the organizer I-Motion.
When? December 1, 2018
Where? Mannheim / Germany
Get more info here! (German)
more than 30 international top djs
No wonder that TOXICATOR attracts more and more visitors to the Maimarkthalle in Mannheim. Almost all DJs of the scene were already standing on the decks. More than 30 international top DJs and live acts from Brazil, Holland, Italy and Germany will provide the sound for this year's anniversary. From 20-06 o'clock the fans celebrate on three floors, which are divided according to the subgenre
Buy tickets here!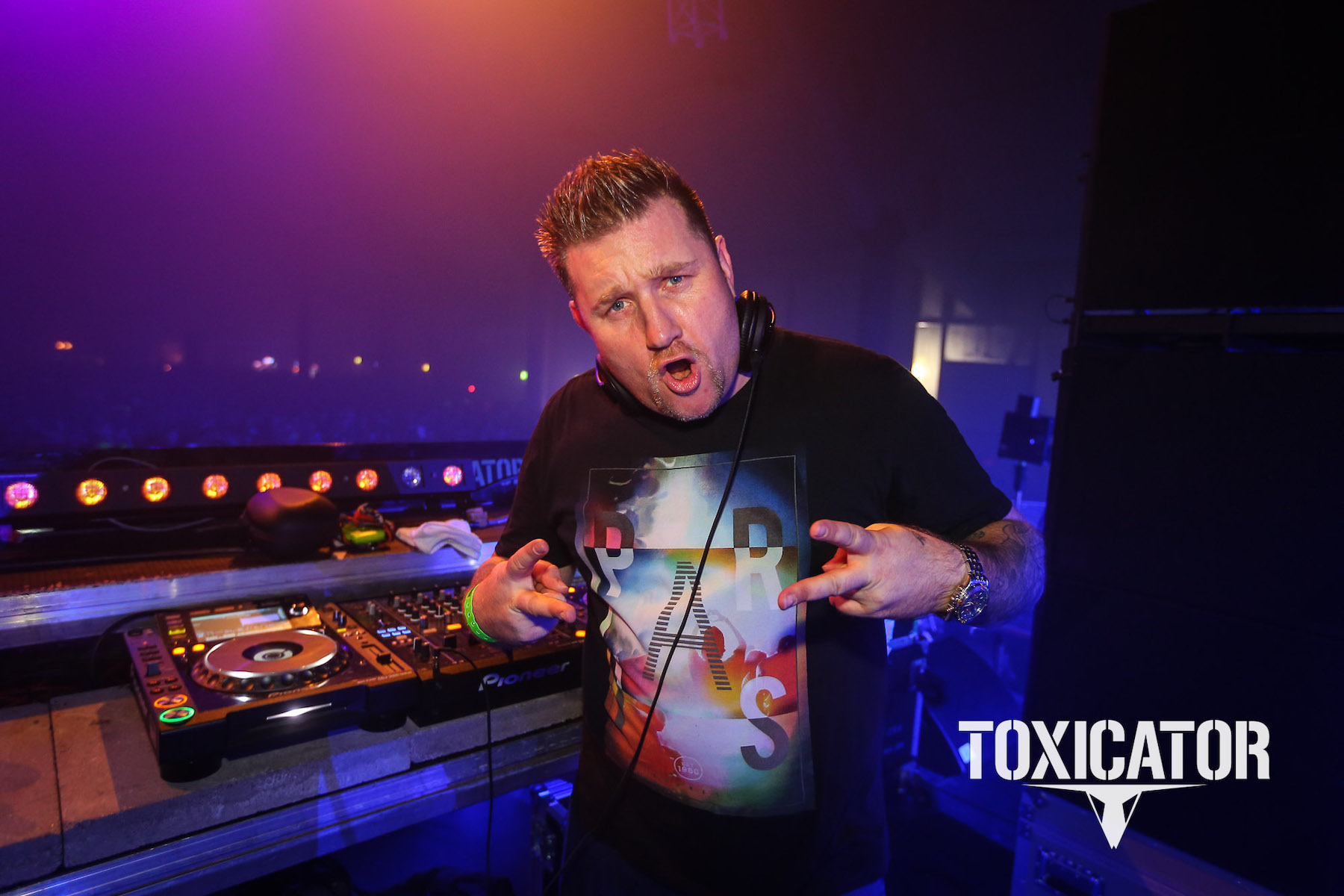 On the "Hardcore-Floor", besides the joint project Scarphase of PARTYRAISER and F.Noize, the Italian DJ duos ART OF FIGHTERS and The Sickest Squad of the artist collective "Hardcore Italia" will be on stage.
Wearing hockey masks during their performances has become a trademark of ART OF FIGHTERS over the years.
Besides Italy, the Netherlands produce the hottest artists of the harder sounds. On the "Hardstyle-Floor" four DJs from the Netherlands play. Almost a million Facebook fans speak for themselves on Frontliner, also known as "the Melodyman", and Wildstylez. The latter recently produced a track with the well-known DJ Hardwell (9 million Facebook fans) and toured worldwide from South America to Europe and Asia. The hardtechno-duo BMG from Wiesbaden is almost part of TOXICATOR's inventory, as they have been an integral part of the event since 2009. Visitors can also look forward to "PETDuo" from São Paulo.
"The atmosphere at the Harder Styles events is unique. For the fans, TOXICATOR is one of the rare opportunities to see their favourite acts live," explains Oliver Vordemvenne. "Not only a promising lineup awaits you, but also elaborate light and LED installations as well as perfectly tuned sound technology.
Find more information on TOXICATORs official website, Facebook and our event page. And don't forget to follow us on Facebook and Instagram for the latest updates. 
official timetable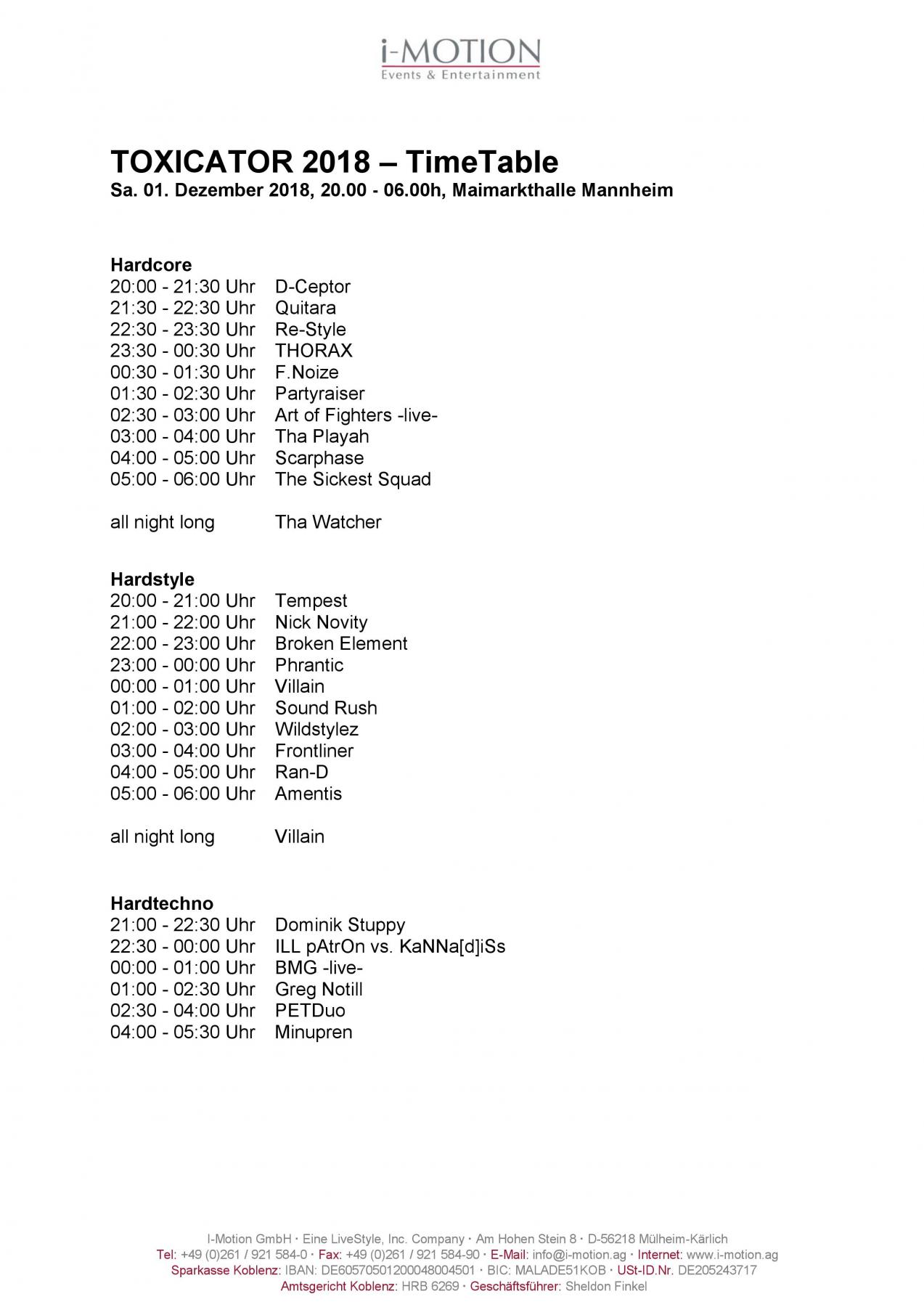 ---