---
LINEUP-NEWS: BOOMTOWN 2019 unveils 4 new stages for AREA 404!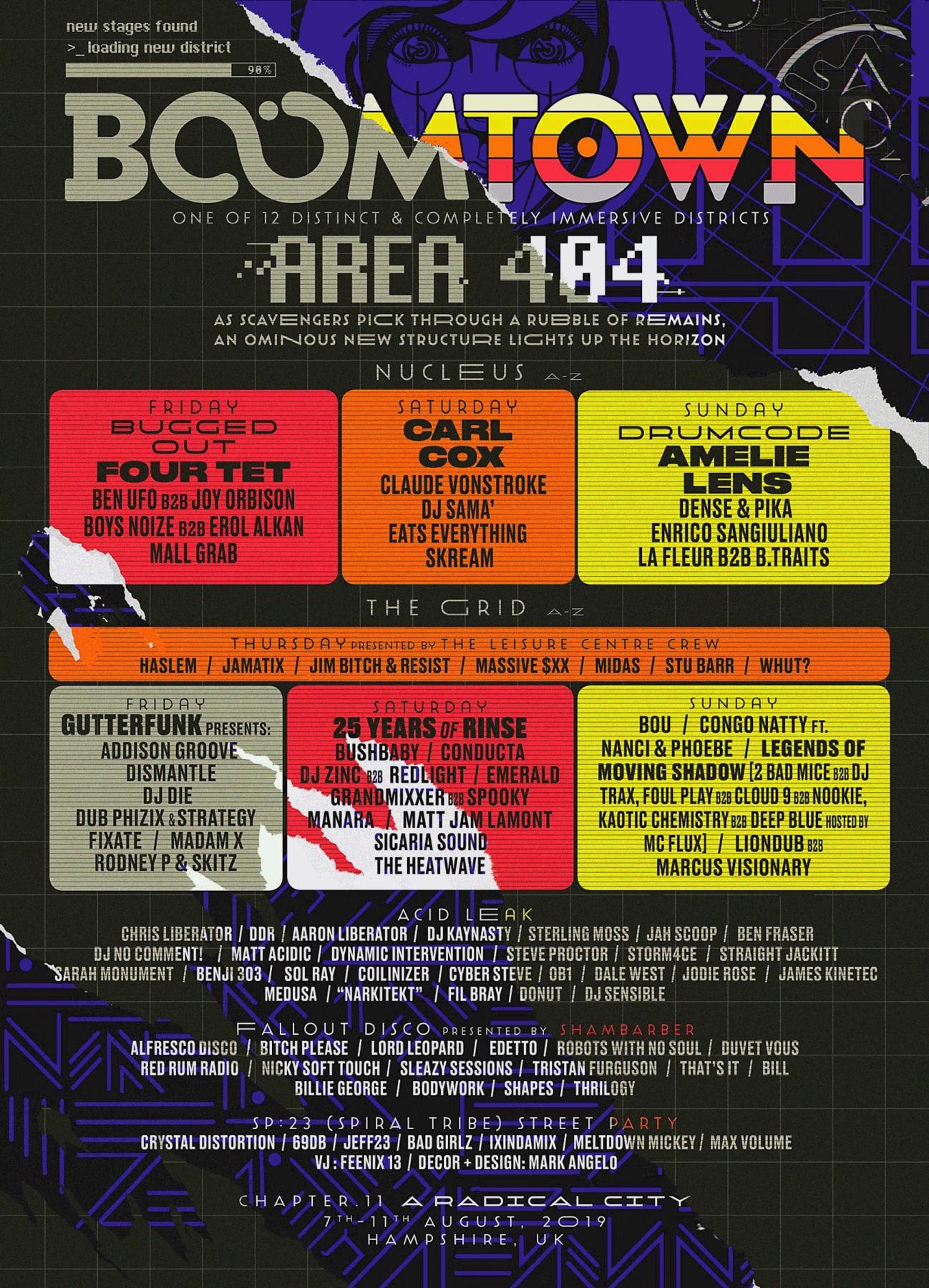 Image Credits to Boomtown Fair
complete lineups for 3 complete new stages
When? August 7-11, 2019
Where? Winchester / United Kingdom
Get more info & tickets here!
For its industrial post-apocalyptic themed district Area 404, the organizers of Boomtown has now uncovered the full lineups for all four stages including the new announcements The Grid, Fallout Disco, and Acid Leak. 
The following acts are confirmed for The Grid: (On Thursday, presented by THE LEISURE CENTRE CREW) HASLEM, JAMATIX,  JIM BITCH & RESIST, MASSIVE $XX, MIDAS, STU BARR, WHUT?; (on Friday, presented by GUTTERFUNK) ADDISON GROOVE, DISMANTLE, DJ DIE, DUB PHIZIX & STRATEGY, FIXATE, MADAM X, RODNEY P & SKITZ; (on Saturday) BUSHBABY, CONDUCTA, DJ ZINC b2b REDLIGHT, EMERALD, GRANDMIXXER b2b SPOOKY, MANARA, MATT JAM LAMONT SICARIA SOUND THE HEATWAVE; (on Sunday) BOU - CONGO NATTY ft. NANCI & PHOEBE - LEGENDS OF MOVING SHADOW (2 BAD MICE b2b DJ TRAX, FOUL PLAY b2b CLOUD 9 b2b NOOKIE, KAOTIC CHEMISTRY b2b DEEP BLUE hosted by MC FLUX), LIONDUB b2b MARCUS VISIONARY. 
Fallout Disco (hosted by Shambarber) will bring you ALFRESCO DISCO - BITCH PLEASE, LORD LEOPARD,  EDETTO, ROBOTS WITH NO SOUL, DUVET VOUS, RED RUM RADIO, NICKY SOFT TOUCH, SLEAZY SESSIONS, TRISTAN FURGUSON, THAT'S IT, BILL, BILLIE GEORGE, BODYWORK, SHAPES, and THRILOGY. 
Acid Leaks puts CHRIS LIBERATOR, DDR, AARON LIBERATOR, DJ KAYNASTY, STERLING MOSS, JAH SCOOP, BEN FRASER, DJ NO COMMENT!, MATT ACIDIC, DYNAMIC, INTERVENTION, STEVE PROCTOR, STORM4CE, STRAIGHT JACKITT, SARAH MONUMENT, BENJI 303, SOL RAY, COILINIZER, CYBER STEVE, OB1, DALE WEST, JODIE ROSE, JAMES KINETEC, MEDUSA, "NARKITEKT", FIL BRAY, DONUT, DJ SENSIBLE on stage. 
The acts for the fourth stage, Nucleus, have already been announced which would be: FOUR TET, BEN UFO b2b JOY ORBISON, BOYS NOIZE b2b EROL ALKAN, and MALL GRAB on Friday, CARL COX, CLAUDE VONSTROKE, DJ SAMA', EATS EVERYTHING, and SKREAM on Saturday, and AMELIE LENS, DENSE & PIKA, ENRICO SANGIULIANO, and LA FLEUR b2b B.TRAITS closing the festival on Saturday. 
Other headliners of Boomtown's Chapter 11 are MS. LAURYN HILL, PROPHETS OF RAGE, and THE STREETS. All in all, the organizers want to provide you with "bass heavy sounds, house & disco plus hard house and acid techno [...] for all electronic tastes" in addition to a "multi genre, multi layered festival". 
Find more information on the official website and visit our event page for  accommodation opportunities. Follow us on FACEBOOK and INSTAGRAM for both latest lineup updates and festival impressions right in your hands.
---